Carishma Basday is a professional actress, dancer, and model. The dynamic starlet has always had a penchant for the limelight. Starting ballet at the age of 4 she has since trained in many styles of dancing, spent time as a journalist and news anchor, obtained her degree in performing arts and media studies, and trained as a film actress. She has shot two feature films, appeared in many TV commercials, and has taken to the theatre stage.
In episode #16 of the Future Females Show, hosted by Media Personality & Transformational Coach, Susana Kennedy, and Co-Founder & CEO of Future Females, Lauren Dallas, Carishma talks about creating financial freedom as a Mumpreneur.  
ALSO SEE: Liza Pavlakos: How to Be a Purpose-Driven Entrepreneur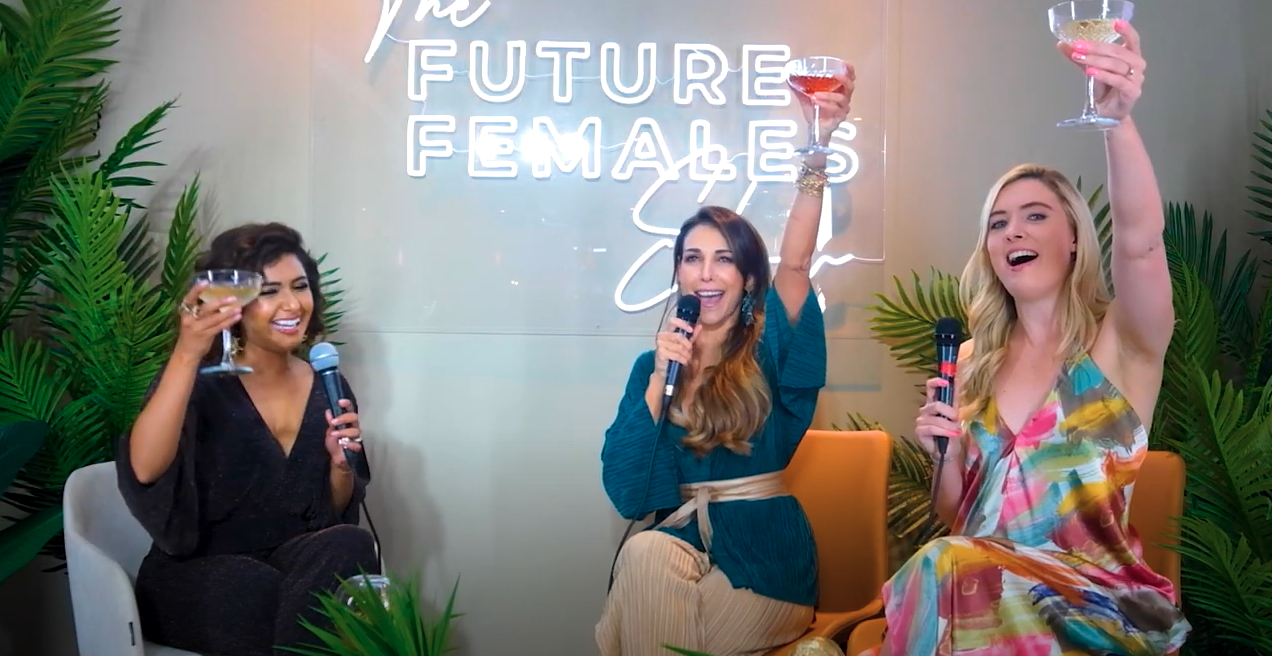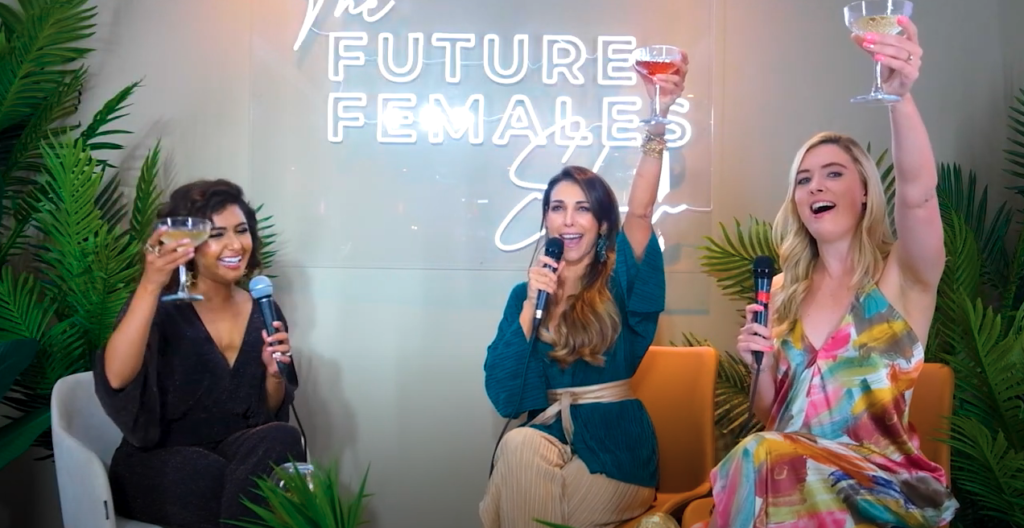 Tell us a little about yourself.
I was a small-town girl with very big dreams and I am proud to say that I have made them come true and continue to make them come true every day. I have always had a love for telling and creating stories. As I grew into that, it turned into inspiring people through those stories and creations. That is a huge part of my identity and it has grown and evolved over the years.
I am also a wife to an amazing human who is the most phenomenal man, and I am a mamma to a little two-year-old. Being a mom has changed a lot of things over the past two years! I am an all-around creative with a love for life and a love for inspiring and impacting the lives of women, especially.
With lifestyle in mind, what were some of the things you knew you would never trade for anything – your non-negotiables?
I never wanted to sacrifice my creativity and give up that freedom of "this is who I am, this is my time". Time was a big non-negotiable for me. Also, my husband and I chose very different lives (he is an anti-poaching helicopter pilot) so a very big thing for us was that our time was precious and we specifically chose these careers so that we could negotiate our time to suit our lifestyle. I hold my values very close to my heart so I still do not take on any projects or do anything that is not in line with my values and who I am, authentically.
Tell us a little bit about your content creation career.
That is an interesting journey. I dabbled on social media here and there and as a young actor, there were a lot of "hot girl" pics of all my shoots and the different things that I was doing, and that generated an audience of largely males. I didn't really take it seriously until I was a TV presenter for many years. That obviously threw me in the limelight and attracted a lot of brands to me. Social media and content creation were really kicking off at that time and so I received a lot of wonderful free things and it felt amazing, but there came a point where I realised that I could only have so many things and that it wasn't paying my bills and giving me what I needed anymore.
However, I really struggled with the question of charging people and how I earn money.
ALSO SEE: Cindy Nell-Roberts: Leverage your Brand to Build a Beauty Empire
How did you go from getting nothing to being paid?
Interestingly enough, never knowing how to assess my worth generally and in the space, and watching other content creators, I came to a Future Females event, and listening to the speaker I thought that it was the answer to all my prayers. I was still finding my way – the engagement was not really what I needed it to be and I was not comfortable with charging as much as I knew I was worth because I did not know how to show a return on investment. My problem was that being on television, people know me but the people I was trying to target were women. Men did not care about my skincare routine or the holistic retreat I went on or the stuff that I wanted to promote on my page, but women were not able to relate to me and connect with me because I was this "pretty girl on TV" and I had not learned yet how to connect authentically or how to be vulnerable. I was very much caught up in thinking "I am this pretty girl and that is what the world needed me to be", even though with my friends and family I was not someone different, but it was not all of who I am. I thought that that was what my audience wanted and needed.
The shift came when I fell pregnant. It was such a big game changer for my audience and for my career as a content creator. I shared (with masses of women) so vulnerably and authentically and I navigated my pregnancy in a very different way which I think really inspired a lot of women.
There are so many pros to stepping into sharing your true authentic self, but people also then pushed the boundaries until you thought – okay, this is enough. Tell us a little bit about that.
People are very opinionated, especially online. It is so wonderful that so many women feel this deep connection with me, but on the other hand, they feel very entitled to also have a very deep opinion about how I do things. I think also it is because I have done things so differently. I have chosen to share my daughter very openly online because she is a big part of my life and she brings so much joy to other people, but it got to a point at one stage where, if I was not posting about her I would get hundreds of messages from people saying that they miss her and asking why I am not posting about her. It was really intense and I had to set that boundary that sharing her was on my terms.
ALSO SEE: Oyama Botha: How to Practice Radical Self-Love
What advice would you give content creators out there who would like to follow in your footsteps and who are also moms – where is that boundary and how do you figure it out?
I think it comes down to what you feel comfortable with and as a mum, you will know. Trust your intuition and your gut. You will know when something is okay and when something is inappropriate.
How are you managing boundaries around time?
I think I am very privileged to now be in a position where I only take on campaigns or work that really means something to me and that really motivates me in a specific way. For example, I either love a brand for a specific reason or it is part of my story that I want to share with the world. That really helps me to keep things in check. It is not just saying yes to everything and having this overwhelmedness by work that I need to deal with. It has also been wonderful to be able to include my daughter and my husband (he is a great videographer!) in some of the campaigns and to sometimes work together as a family.
For me, it is all about knowing my boundaries. Why am I saying yes to a job? What do I need from it? What am I gaining from it? And also, how is it impacting my family as a whole?
It is a journey to know your worth and unfortunately, I think for me and maybe for a lot of people, you have to go through those ups and downs and work with some really not-so-great people to be able to know how to find your boundaries.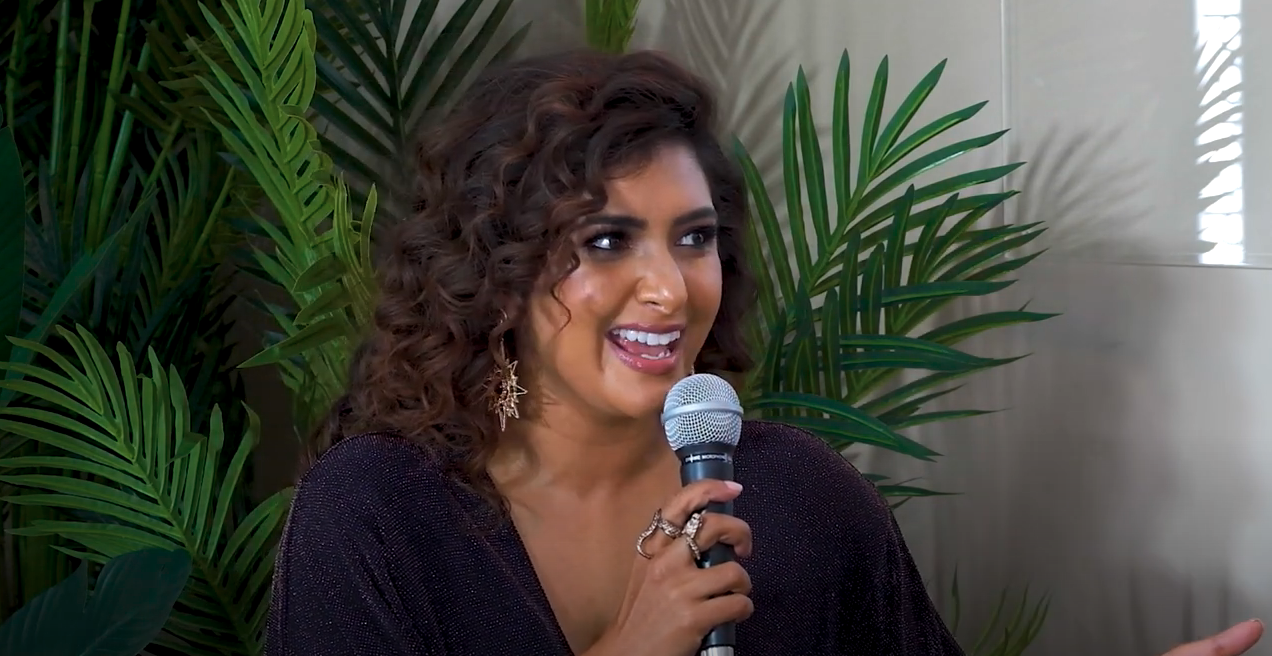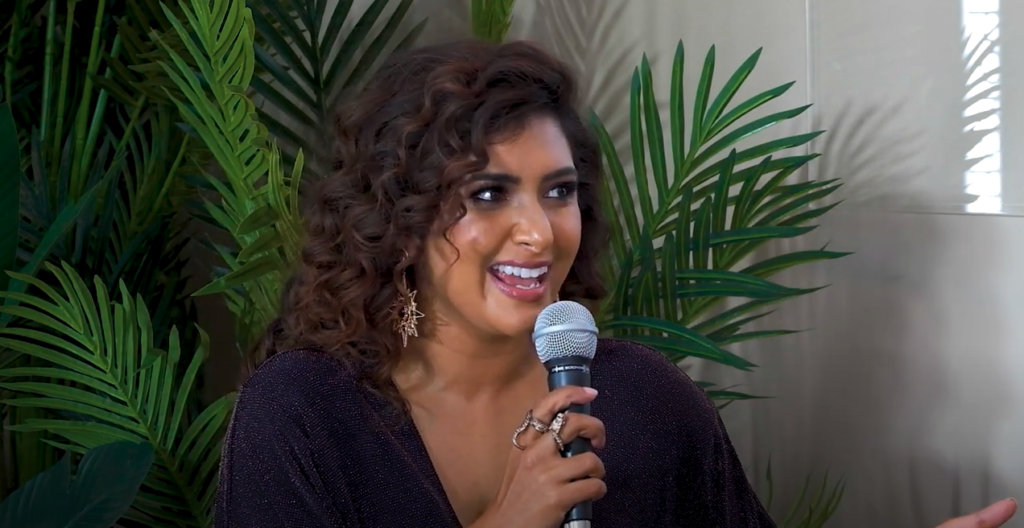 You are about to start a podcast that is going to be focused on wellness and I know that you will be talking about sleep. How have you gone on your journey so far and what has led you to this next step?
It is an ongoing journey and a never-ending dance, and you have to surrender to that ebb and flow of things, especially when it comes to sleep.
I was a complete night owl and I never really thought that sleep was that important. I used to sleep 4 hours a night and unfortunately that is how I trained my body to function – which is so bad. It was only when I became a mom that I realised how amazing sleep is and how I am able to function, to self-regulate myself, and be present for my daughter. I have been a lot more mindful of sleep hygiene, even though it is sometimes not a thing when you are a mom.
How I got to the point of a podcast was really for me interviewing amazing women on the television show that I presented on. I came up with the name Chat & Chai with Carishma and it is basically a podcast where two women are having a cup of tea and sharing authentically. I believe that the power of someone sharing their story is just so powerful and impactful because that is how you inspire and change people's lives – by just authentically sharing your story.
ALSO SEE: Managing Stress & High-Functioning Anxiety with Lauren Dallas 
What is the question that you find the most inspiring to get the answer for?
There have been a few but I think the ones that have recently been most impactful for me have been around my pregnancy, my birth, and navigating motherhood. I have done it so differently and I know that sharing those stories has impacted so many women's lives. I think there is so much fear around pregnancy and birth and there is no empowerment for women to trust their bodies and trust that they innately know what is best for them. I gave birth at home with a Doula and a midwife, unmedicated, and it was a 26-hour labour. I ate sushi, raw eggs, and all the things that people tell you not to do. I went surfing in Bali when I was six months pregnant and women could not believe it. So, any question that has given me the opportunity to share those kinds of stories has been very powerful for me.
How challenging has it been being judged for doing things your way and differently? Or has it just been like "this is my mark!"?
Other people's opinions will always be other people's opinions and they will be there regardless of what I do. At the end of the day, I have to follow my heart and my truth. I have made decisions that I know are right for myself and for my family and whether they work out or not, that is my burden to bear – it has got nothing to do with anyone else. That has always been the truth that I have hung on to.
There is this beautiful analogy that, as women, we are always juggling a lot of balls at the same time. There is always going to be something (a ball) that is going to get dropped along the line. Every day you have a choice of whether it is going to be a glass bowl (something really important) or a plastic ball. That was very impactful for me as a new mom, especially just getting back into work, to know that I was always going to be juggling.
ALSO SEE: What Would You Tell Your Younger Self? 
How did you pick yourself back up when you had challenges throughout your career?
Through a lot of spiritual work. I think I am addicted to self-growth and self-discovery! Ageing and getting to know myself better each and every year is the most wonderful thing for me because it brings so much confidence in so many different ways. When I was younger, I relied very much on the confidence of how I looked, whereas now I rely so much on the confidence of who I am. I also surround myself with amazing people who are rooting for me, who have my back, and who are there for me no matter what. Yes, I have an entire audience looking at me all the time, but how many people really see me? I hold the people who are truly close to me very near and dear.
What is one piece of advice that you would give to women?
There is something that my dad used to always tell me and it has been the anchor in life. When life is sweet, say thank you and celebrate and when life is bitter, say thank you and grow. For me, it encompasses life. Life is this constant dance, this constant ebb, and flow and there are beauty and gifts in every single moment.
ALSO SEE: 5 Books Every Female Entrepreneur Should Read
Watch the show episode video here: