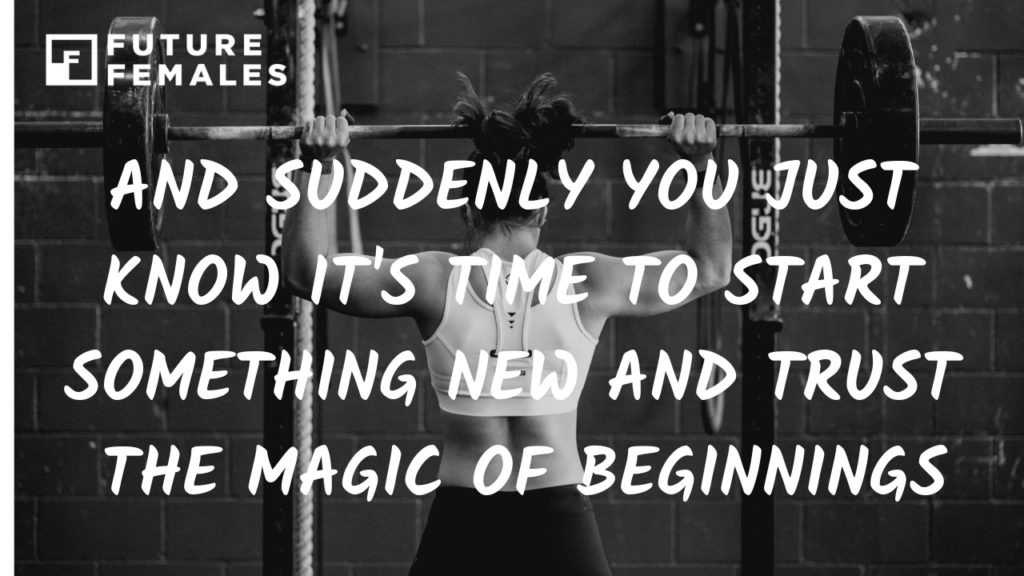 How To Trust the Magic of New Beginnings
There is so much excitement in new things, in new beginnings. That loving feeling you get when you meet someone new, that you really like! Like a present they sometimes land in your life. Treating yourself with new clothes or just something nice to have that you can really enjoy. New jobs and business opportunities calling. The exhilaration feeling of watching your life unfold even better than you could have imagined. This is my favourite topic! I love new things!
Sometimes It Starts With A New Perspective
I turned 30 in the beginning of this year. Kind of a major life-event, where, for the first time, I really needed to think about life and myself on a much deeper level than I'd ever done before. Mostly also a direct result of being an entrepreneur. Trying to figure out for the first time how to set up and run a business, I clearly first had to figure out myself =)
One conclusion I can draw from this first year as a 30-something, is the wonderful in-between – position you are in now. I work with a lot of young ambitions people, mostly girls. Who ask me all these questions about my career path. And asking me to support them in their early career choices. I find this new role in my life amazing. I can totally relate to them since it hasn't been too long, since I was their age. While at the same time my experience and stories are now not only for my benefit, but by sharing with them, I can help them and encourage them in their ambitions!! Very empowering, cool new role, I must say.
At the same time I still need my mentors too. In my life there have always been these women figures, my mothers' age, who I turn to for advice, comfort and I love to hear their stories of failed relationships, ridiculous career successes and all the wisdom (and strong opinions) they gathered throughout the years. I look up to these strong, independent women of the generations before me.
And I find myself right in the middle of that! Maybe you can relate? Something to be truly
grateful for. Sometimes it starts with a new perspective. Allowing your mind and heart to
wander, to be able to look at something from another view point. Just appreciating the way
things are and where life's taken you.
New Year, New Start
My new year starts off with a new direction in my career path. After nearly three years of
working as an entrepreneur, I've taken on another job again. A big decision, when I think about it. But the way things unfolded, so easy and naturally, and that tingling feeling I got when this opportunity arose: assures me it is the right next step for me to take.
Last month was the launch of Future Females Utrecht in the Netherlands. As a super proud
Future Females ambassador I'm looking back on a very inspiring evening. One of our speakers (@nienkebloem) gave her take on how you can stand out in the crowd. And one of her tips was to follow that first feeling when an opportunity presents itself and you feel excited. To always say YES to that.
When I started analyzing and reviewing the choice at hand, I completely lost that feeling. And this also didn't help me in making a decision. I set out to become an entrepreneur and build a business. Would it be like giving up, when I'd take on the job? Would I be missing out? Can I explain this choice to other people and what would they say? Thoughts and questions that seemed fair to consider, but were not helping me in any way.
So I decided to go with my gut. If there's anything entrepreneurship taught me, it is the
importance of using your head, but deciding from the heart. Who knows where this will take me, and I'm very much looking forward to things unfolding.
It Starts With You
Whether you land a new job or suddenly you see yourself from a new found perspective, it is all about you. Your choices, your life. About you saying YES to things. About knowing who you are and staying true to what feels right to you. All you need in life is a clear sense of how you feel. In the last few years I've learned this helps me navigate through anything. And to trust that the outcome of any choice I make with my whole heart is always a good one. Feels good? Do it!
Doesn't feel good or not sure, than don't do it, at least not right now.
Last month we talked about Power & Empowerment. We all have such amazing, unique powers. But the question is: do you realize you do? Do you know what your superpower is? And do you know how to use it? I think the most powerful and empowering thing each and everyone of us can do is to (just) be ourselves. Completely truly ourselves. Sounds easy, is not! But by allowing our true selves to shine through in everything we do, we offer the world our very best.
And it is a truly empowering and liberating goal to strive for for your personal benefit too!
One inspiring lady I recently discovered through Future Females is Brene Brown. Perhaps you know her books or have watched her on Youtube. You definitely should! She says: "We
desperately need more leaders who are committed to courageous, wholehearted leadership and who are self-aware enough to lead from their hearts, rather than unevolved leaders who lead from hurt and fear." -Brene Brown
And this is exactly where we as Future Females need to step up. I think we as women have a shared superpower of Leadership from the heart, that comes very natural to us. It's time we put it to use! Let's make the new year about creating a more balanced business world, where female entrepreneurs and intrapreneurs claim their seats at the table and fully embrace and embody their unique female leadership styles.
This blog is based on my speech for the Future Females Utrecht launch on December 13th.
Marleen Mulder is the Founder of Minimal Mass, a clean-tech company aiming to make electricity more widely available and renewable energy tech affordable. She is passionate about exploring new ways of enjoying nature and lowering her footprint on the earth. Being based in the Netherlands, she is fully engaged in the online activities of Future Females.